Your Pet's Favorite No Spill Dog Water Mug
Sale price Price $24.79 Regular price $39.99 Unit price / per
How many times did you have water all over your clothes or hands after your dog was done drinking water?
Well, we are proud to say that the portable dog water bottle offers a solution to this problem, too. Once you squeeze the water bottle, water fills the attached bowl. And once you let go of the bottle, the water returns in the container. With the bottle, you can have maximum convenience while keeping both yourself and your pup clean and dry.
Main Features:
Gently squeeze the bottle and water will fill the bowl. Release your squeeze and the water returns to the bottle.
Conveniently fits in your car's cup holder.
Made of plastic material, BPA-free, dishwasher safe and lightweight.
Easily keep your beloved pet hydrated with this bottle.
Portable dog bowl fills with water when you squeeze the bottle.
Walk your dog long distances without having to worry about finding a water source.
 Specifications:
Product Dimensions: 9.2 x 7.3 x 4.7 inches

Capacity (volume): 18 ounces

Material: Polypropylene, Silicone, Stainless Steel, Thermoplastic Elastomers, Low density polyethylene

Pet Life Stage: All Ages
Shipping:
The approximate shipping time is around 2-3 weeks.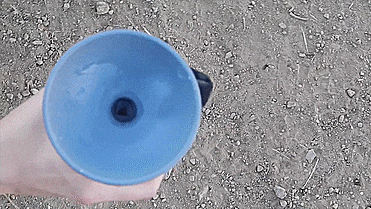 The travel water bottle for dogs comes with a strap to attach it to a backpack or your belt, and is completely sealed and leak proof, so no worries about spilling the water if you're going to be jostling it about.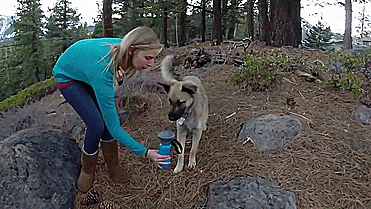 To use the bottle, simply squeeze the bottle and water will start filling up the bowl, which you would think would only work well if the bottle is full, but the bottle has a straw that it draws the water from, so that even if the bottle is almost empty it can still fill the bowl with water.